The new Luminaire 3 Innov-ís XP3 offers a range of advanced features that make it an incredible sewing, quilting, and embroidery machine. With new Wi-Fi capabilities, unique built-in designs and stitch functions, and our innovative StitchVision Technology, the Luminaire 3 Innov-ís XP3 is built to be as brilliant as your creativity. And it's here to bring your best ideas to light.
Say Hello to the Luminaire 3 Innov-ís XP3 — the latest and greatest sewing, embroidery, and quilting machine from Brother. In addition to our revolutionary StitchVision projection technology, the Luminaire 3 has powerful wireless LAN capabilities, so you can transfer embroidery designs directly from your PC. You can even send images from a smart phone or tablet, get alerts when it's time to change thread, and enable multiple Brother machines to work together. It's a machine that's as brilliant as your ideas.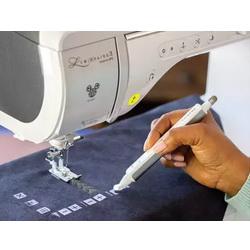 StitchVision Technology
Through an intelligent projection of light, the now enhanced and industry-first StitchVision Technology allows you to preview, audition, and edit your stitches and embroidery designs directly on your fabric. Experience more accuracy than ever before as stitches and embroidery designs can be projected right on your fabric.
Choose your desired sewing stitch or design, and watch in amazement as it is projected onto the 5" x 3" virtual preview area.*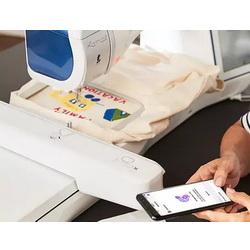 My Stitch Monitor Mobile App
Enable wireless LAN connectivity between your PC and the Luminaire 3 to keep track of your embroidery with the My Stitch Monitor mobile app on your iOS® or Android™ device. Walk away from your machine and be notified via your mobile device when you need to change threads or if your project has finished stitching.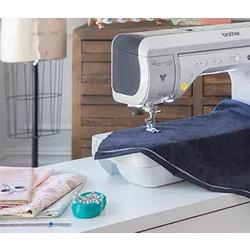 Stitch Tapering Function
Add a nice, professional taper to jeans, tops, and home de?cor. Simply choose the stitch you would like to use, the angle of the start and end of the taper, and the number of repeat stitches in the pattern cycle.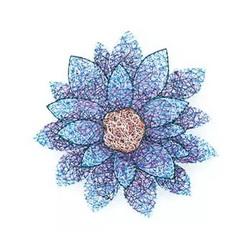 Ornate Long Stitch Technique
Use any of the 10 Long Stitch built-in designs to add a unique geometric enhancement to just about any project. This technique resembles string art with dramatic long stitches layered to create a unique embellishment.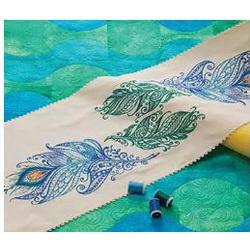 Large Connect Designs
When you want to 'go big' on your next embroidery project, the five built-in large connect embroidery designs are a great starting point. Select from ornate flowers, birds, and other elaborate designs that range from 721mm x 383mm (28" x 15") and when combined, allows you to create a large ensemble.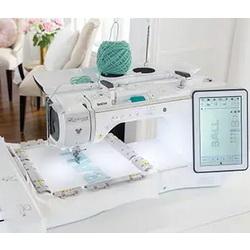 Creative Yarn Couching
Enhance your creations with a new technique so you can embroider "letters." When you fill in the characters using yarn (the color of your choice), you give it a 3D effect. You can use upper case letters, (approx. 3" tall), lower case, numbers, and all characters are also resizable for even more flexibility.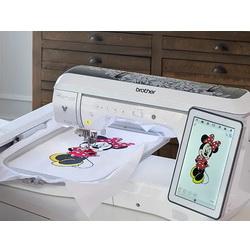 Disney is in our DNA
The Luminaire 3 has the magic of 192 built-in Disney embroidery designs and 10 decorative Disney stitches. Additionally, access exclusive Disney and Disney·Pixar embroidery designs through the iBroidery.com Download Center. (Additional purchase required)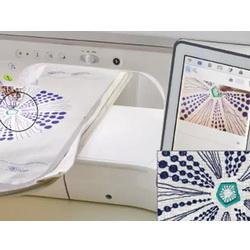 Enhanced Innoveye Plus Technology
It's like having a built-in camera and scanner! The ability to scan the entire embroidery area provides virtually endless creative options and helps ensure that all your projects are perfect.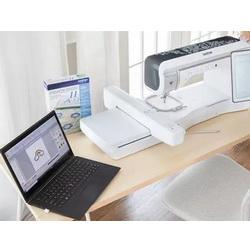 Free Downloadable Software Design Database Transfer
Transfer embroidery designs from a PC to your Luminaire 3 when connected to a wireless network. No USB required. Plus, when you pair your Luminaire 3 with PE-DESIGN 11, you can send edited designs back and forth, in both directions, between the computer and the machine.